It's Saturday and this week has flown by! It also has been fairly packed with class and adventures so I'm breaking it up into two posts (Monday – Wednesday today & Thursday – Sunday tomorrow).
---
Day 7 – Monday
Monday is when things really started. It was the first day of class and also a very royal announcement.. Between my morning and afternoon class, we had lunch in Kensington Park across from the palace and as we were walking around the grounds, saw some TV crews starting to set up. Surprise, surprise, Kate is having another baby!!
I did a Hyperlapse Video of the bus ride home and here's a snippet –
---
Day 8 – Tuesday
Gym. Laundry. Organize. Basically my motto for the day, but also productive with setting up some concerts for the first few weeks.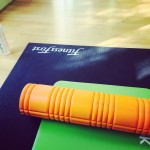 ---
Day 9 – Wednesday
1 Week Anniversary! I actually felt like I had been in town for a month by this point, but it has been a week and naturally the first concert was in order. We saw James Bay at St. Stephen's Church in Shepherds Bush and it was almost magical. It was one of those moments when I felt I was exactly where I was supposed to be and nothing was missing. Daytime was pretty typical with class and walks around the area.
Stay tuned for more!
– AS.