I'm no expert at Boston (or any of the cities I travel to) but I always try to mix in a bit of 'tourist' and a bit of 'local' when I go somewhere. I've been to Boston a few times and have enjoyed it each visit! While I didn't have tons of time to explore, I made it a point to walk around a little bit on the one day when I knew there would be spring weather between volunteering and watching the World Figure Skating Championships. I'm really glad I used some of Friday to explore too because the snow forecasted on Sunday/Monday happened (I'm talking 3-4 inches on Monday).
I've mentioned it before, but Pinbox is my go-to app for creating a list of places to see and keeping any important addresses in one place. I like that I can just look and see where places are in relation to other places. I didn't visit nearly any of these places thanks to the weather and a pretty packed schedule, but the great thing is that I have them saved for my next trip!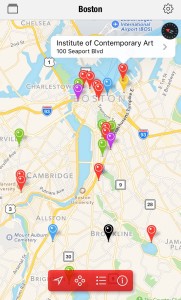 The map is color coded on the following:
Black – Where I Stay
Blue – Sweet Treats
Green – Cafe or Coffee Shop
Red – Historical Places / Places to Explore

Trinity Church
Boston Public Library
Jamaica Pond
Harvard Yard/Square
Institute of Contemporary Art
Fenway Park
Faneuil Hall
Old State House
Old North Church
Paul Revere House

Purple – Event Venues (Important Places)
*protip: if you will be staying in the city for a few days, get a 7 day T-Pass. It allows you to use any Zone 1 rail, subway or bus transit and is only $20.