For people that have known me for a while this post will make a lot of sense and perhaps is something you have already heard me post about. For those of you just now meeting me, Hi.. I'm Arin and before you go further go read this – ateenview.com. So just to summarize that post for those who didn't read it or want a refresher, I started a blog called A Teen View when I was 15 and a half after having spent all of 3 months interviewing a few bands for the East Valley Tribune. It was 2009 and because of budget issues the magazine was potentially going to shut down. I was a sophomore in high school and I figured how hard could it be to make my own website. Little did I know that it would end up shaping the rest of high school and the first year of college for me.
This all started out in 7th grade as an innocent dream of interviewing the Jonas Brothers after seeing a video of two girls not much older than me doing just that. I figured 1) how hard could that be 2) I've met plenty of 'celebrity' figure skaters and it doesn't phase me and 3) that's the only real way I could have an honest conversation. Now looking back I probably would have had the dumbest conversation had that happened and I'm the first one to admit it….. simply based on the emails I had written back then and the quality content I was positing on Facebook (twitter didn't exist but I was just as bad when that started too). So as the years passed, I never interviewed them, but I did interview one of their opening bands in '09 and that sparked this whole dream. When I began A Teen View I had no idea how long it would last, but knew it would be a chapter in my life.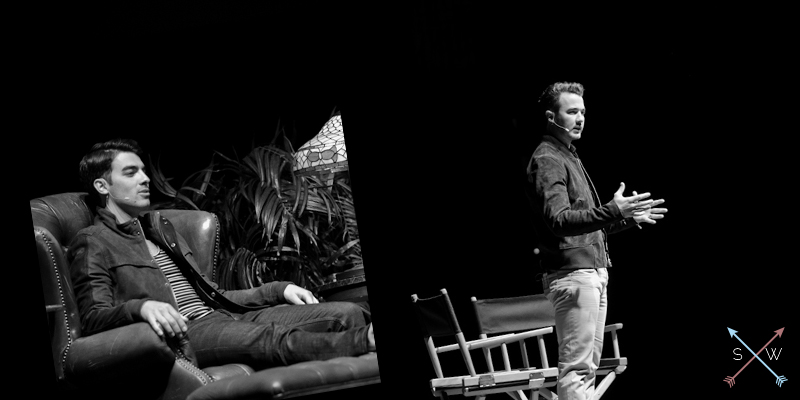 Looking back, it is why I know how to build a decently functioning website and why I go to school for Entertainment + Arts Management (I wanted to be a nano scientist in elementary school but quickly realized I didn't want to once I started learning big kid math and science). Without that initial dream I would have never moved to the east coast and who knows what I would be studying in college or where I would be going to college.
Anyways, a few months ago I went to see 'Kevin + Joe – Off The Record' which felt like the official back cover of the A Teen View chapter. May 24th was my 20th birthday and it just didn't feel right to continue a blog that was supposed to be a 'teenager's' perspective when I wasn't a teenager. Over the last year I had also gone a bit overboard with concerts and needed to take a little bit of a break to focus on 'growing up' and figuring out what was next for me.
I think it is important not to forget the past, but to embrace what shapes who you become. Without the Jonas Brothers I honestly wouldn't be where I am today. As cheesy as it sounds, the band impacted my life simply by being 'the cool thing' when I was in 7th grade. It's funny to think that three guys I never really met (I did once but it as a meet and greet and I don't think I said anything other than 'hi') impacted my life in such a big way, but I think that is the power of music and sports. People can pick careers over dreams that may never be fully achieved, but the initial goal can lead you down a path that opens your eyes to endless possibilities.
Just some thoughts.
– AS.