I have officially referred to the apartment in London as Home more than once now.. This means two things 1) it has been nearly a month and 2) leaving in a few more months will be more difficult that I had expected. Funny story before getting into a recap of the week, I was working on some reading the other day relating to the 2012 Olympics and the planning of it. While reading it simply reinforced the fact that I want to work in London at the Olympic Park (they have done an amazing job making it relevant and a hub of sports in years following the games) or at some other venue here so I took a break from reading and started to research dual citizenships.. Fun fact, it is allowed. Anyways, chances of that happening are slim, but now I know!
Side Note – I am covering a week here so prepare for a longgg post and I promise to get back to more frequent posting!
Day 21 – Monday
Monday has a trend of being artsy and this one was no different. After talking about music in the morning, we went to Tate Britain for a class in the afternoon and then I spent the evening at The Lexington to catch the final show of Liam Finn's residency. A simple yet perfectly structured day in my eyes.
---
Day 22 – Tuesday
Laundry. Group Projects. TV Show Taping? To differ from the usual mundane Tuesday festivities, we went to a taping of the Clare Balding show (think ESPN meets Ellen) down at the Olympic Park in a studio that is housed in the former International Broadcast Center. A pretty awesome experience and fun way to spend a Tuesday for sure.
---
Day 23 – Wednesday
Erev Rosh Hashanah dinner with a childhood friend, food tastings in class and a usual trip to the gym sums up Wednesday pretty well. I do miss my moms kugel and other 'jewish food,' but spending the evening with a friend made up for it.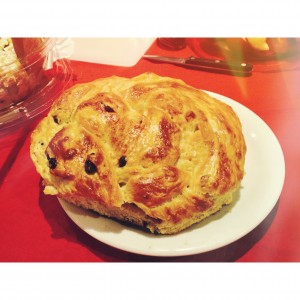 ---
Day 24 – Thursday
Concerts for class are pretty great.. Especially with the show is a good one! It was back at The Forum (where I saw Gavin DeGraw) so I had a good feeling going in. Also, we had a food tasting for a different class in the morning so I can't really complain much about anything here..
---
Day 25 – Friday
It only took 3 weeks but we had a proper night out although instead of the crazy club scene, we discovered Red Market in Shoreditch which is an outdoor repurposed parking lot with a beachy vibe. Also, a late night in Shoreditch isn't complete without a trip to the 24 Hour Bagel Store that is one of the few places in London where you can find traditional Jewish bagels (and for cheap!). Earlier in the day we had class and a lecture on sustainability, but all and all it was a fun way to cap off a pretty good Week 3.
---
Day 26 – Saturday
#NFLUK aka The International Series took over London this weekend. Now as cool as it is to have American Football here, it makes things confusing because now I don't know how to refer to things so I have to throw a location in front. Anyways, I spent part of the day down on Regent Street for the NFL UK launch, walking around and exploring all the different games and naturally, all the brand activation. With an abundance of Cardinals and Eagles jerseys, even though neither is playing, I felt at home.. Until someone started to talk.. It was a great event though and reminded me of the Super Bowl block party in Times Square earlier this year.
---
Day 27 – Sunday
Back to Shoreditch to do a bit more research for the Ethnographic paper and presentation we were doing. Catching the tail end of #BuskTheBox at BOXPARK we saw some AMAZING singer/songwriters and then explored the abundant street markets to get some ethnic food on Brick Lane. Honestly, Shoreditch is an area that I could go to every weekend and find something different.
---
Day 28 – Monday
The gloomy morning turned beautiful early evening was an odd yet accurate parallel to my day. With two group presentations and a 3,000 word group paper due it was a long day, but we headed to the Victoria and Albert Museum to end class before I headed home to get work done before the gym.
– AS.